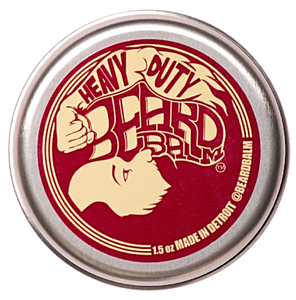 Beard Balm Heavy Duty
Heavy Duty - All-Natural Beard Styling Aid and Conditioner 
Description: Let's face it, sometimes your beard just won't cooperate.  Heavy Duty will teach all those radical whiskers to step back into line. Reformulated with all the high quality ingredients of our original Beard Balm, this stuff offers that extra hold to keep your scruff under control, while maintaining your beard's natural look and soft feel. It won't harden like a mustache wax, in fact it will make your beard softer than ever! Use it on its own, or just on those occasional bad beard days. 
Net weight: 1.5 ounces 
Ingredients: Coconut Oil (source: Sri Lanka. Organic, Fair Trade for Life), Lanolin (source: USA), Grape seed oil (source: Italy), Beeswax (source: USA), Lemon Oil (source: Italy), Eucalyptus Oil (source: China), Geranium oil (source: Egypt).
---
Share this Product
---
More from this collection